A Review by Erica, Sophisticated Pair
I have been a follower of Sophisticated Pair's blog for a long time. I contacted Erica and asked her if she would like to try some of our hosiery and write a blog post of what she thought of them. Below is what she posted and had to say about our hosiery. 
– Tim Gettler
Owner, Glamory Hosiery
Hello Everyone!
After my review of the fabulous Kix'ies holdups, I was contacted by a distributor for Glamory hosiery about testing some of their products. My expectations were high. Since I was so pleased with the Kix'ies, after I received my samples, I realized how complementary the brands can be to each other.
Kix'ies strictly sells hold-ups at the moment and focuses on modern patterns and textures. Glamory offers a more subdued but equally wonderful range of stockings and tights. Glamory even to includes hosiery designed for men.
About Glamory Hosiery
Glamory is also technically a plus-size hosiery line with sizes 40-42 (Large) to 60-62 (5XL). The size large fit me comparably to my size B Kix'ies. Still, I think the inclusion of higher sizes is fantastic as far too many plus-size women are left out in the cold by the lingerie market.
Price-wise the brand is between $15 and $22. This makes them comparable to what you can find in most boutiques or department stores.
For the review, Glamory sent me four different pairs of hold-ups: Glamory Micro 60 in black, Glamory Deluxe 20 in black with red lace, Glamory Vita 40 in black, and Glamory Couture 20 in black.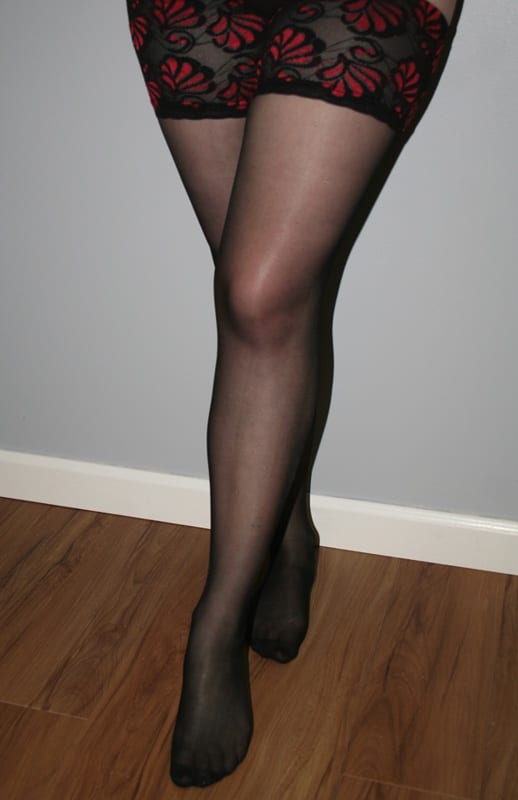 Before I begin my gushy outpouring of love for how gorgeous each pair is, I feel obligated to answer the question every woman asks about hold-ups: Do they stay put all day? I am pleased to report the answer is a resounding "Yes!"
After doing my now traditional stocking dance around the house, I tested them at the shop. In both instances, I did not have to fiddle or readjust once. Like the Kix'ies pair I reviewed, Glamory does not cut into the top of the leg. They do not create that less-than-sexy-why-am-I-even-wearing-these muffin top look.
In fact, I think the stretchier lace manages to smooth and perfect, even if you're like me with jiggly thighs. Glamory accomplishes all of this by using two extra-wide panels of silicone gel at the very top of the lace. This sticks to skin to keep everything in place.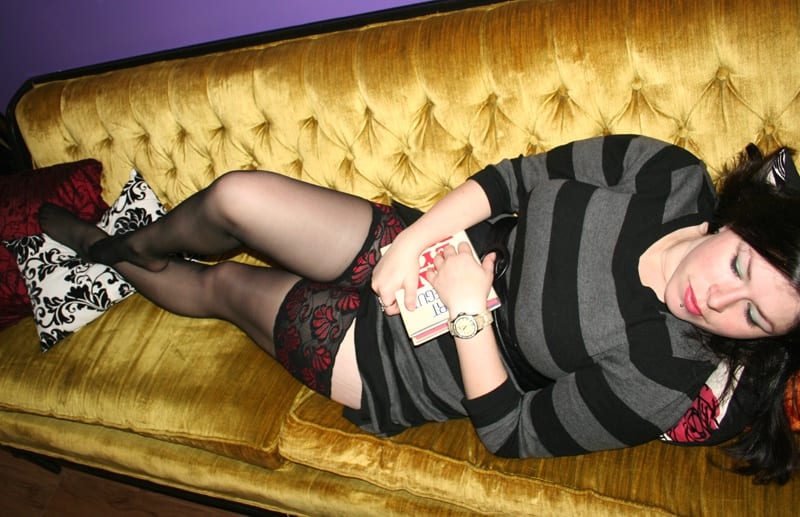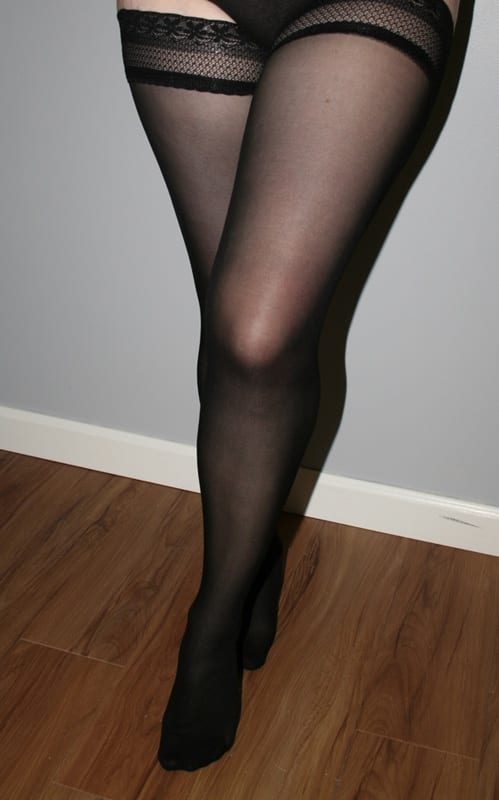 To me, Glamory offers women a traditional aesthetic.  I hesitate to say "traditional" as it can sometimes carry a negative connotation. But I love having choices.
One of my complaints when I wore strictly Cleo bras, for example, is that I was stuck with bright colors and quirky prints, even if I was craving something different. Sometimes I want something that makes me feel like Sophia Loren.
Glamory captures the essence of what makes vintage stockings look so beautiful. They bring grace and style to the modern woman.
I am also a big fan of how Glamory offers multiple deniers in their stockings. The Deluxe and Couture are both on the sheer side, thus making them softer and more delicate. The Micro and Vital designs are more like tights.
Since the weather in NC has not been the warmest lately, I appreciate the added weight and thickness of the Micro and Vital. A sharp gust of ice cold wind rips right through the sheers. That means they only come out to play on days when it's at least 50F (Yeah, I'm a baby).
The Micro tights also have the least amount of lace at the top. That leads me to believe Glamory married practicality to pretty to create perfection. I feel more confident in these than in my tights with whom I have a love/hate relationship.
Another thing, I love how they keep me warm, but I hate fiddling with them or getting runs wherever my zippers happen to sit. Until now, I never appreciated how much I actually adjust, readjust, take down, pull up, etc. my tights until I started wearing hold-ups as much as I do now.
Once the hold-ups are on, I do not have to do anything else with them for the rest of the day. It's liberating!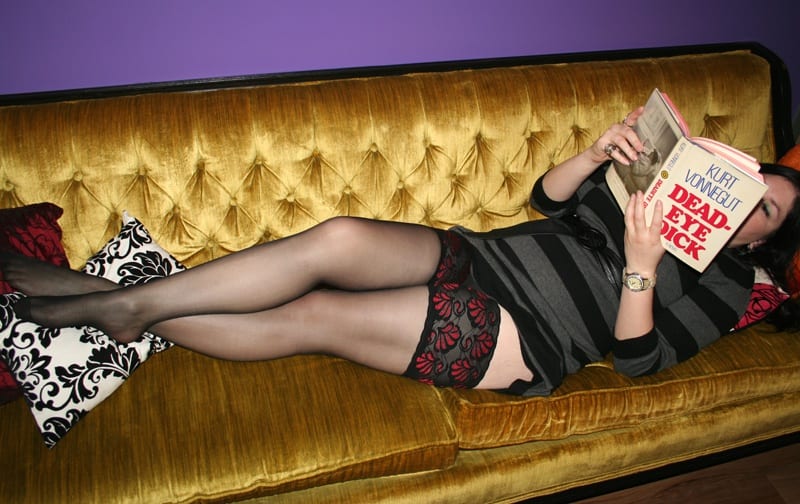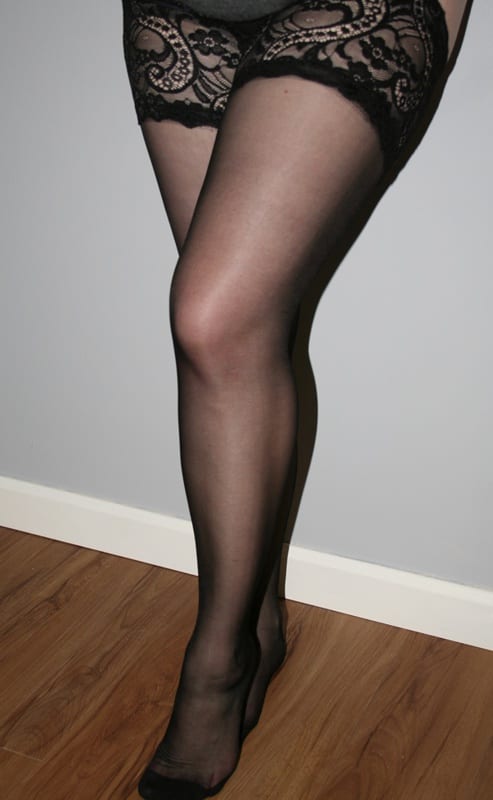 From a non-practical, purely-aesthetic point of view, all of the samples are lovely. The Couture epitomizes the vintage stocking and features a reinforced foot and toe region. The latter does limit these to more closed toe shoes. However, I absolutely adore the contrast red and black lace on the Deluxe. It's one of those design decisions that pops and makes the whole stocking that much better.
Now, in all fairness, the lace of the stockings extends further down my thigh. This increases the risk it will be seen. However, I don't wear super short skirts anyway, so this isn't so much an issue for me. If you do, the lace may flash a little with movement, but hey, it's so pretty! At least it's not like that weird gradient thing on top of tights and hose.
Overall Grade: A+